Rooftop Bar
Moxy Hotel, Washington, D.C.
Southern Mexico vibes at the Moxy DC Downtown.
Perched high atop downtown's Moxy Hotel, Lucha Rosa is DC's newest all-season indoor/outdoor rooftop bar featuring a retractable roof. Colorful, fun and vibrant, Atlas Restaurant Group's next great concept pulls inspiration from Mexican and Latin American cuisine and culture, highlighted by one of the city's largest agave spirits list.
Sip a signature cocktail surrounded by floor-to-ceiling windows that overlook the bustling neighborhood. In the distance, guests will enjoy views of the historic Washington Monument peeking up over the horizon while sitting on the open-air terrace.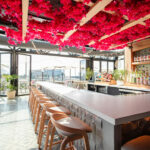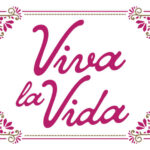 Upscale tacos and tequila.
Vibrant & Vivacious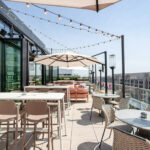 Live Music
Lucha Rosa's lively atmosphere and delightful design will make it the perfect spot for a night out with friends, especially with live DJ's playing every Friday & Saturday night.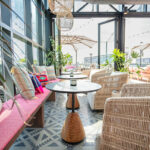 Menu
Lucha Rosa's menu of lite fare has a focus on freshness. Ceviches, crudos, salads and tacos are created with seasonal ingredients that are bursting with flavor and perfectly complement the beverage selections.